Christmas is one of our family's favorite times of the year. There are so many ways we can choose to decorate with the trends always changing. I love following style trends whether it be in clothing or decor.
We don't typically do Halloween in our house, so sometimes we even decorate for Christmas on Halloween! We usually try to make it a special night with some family togetherness. Unfortunately, now our daughter is older and is working this year, so our family time is changing already. For those of you in the midst of raising little people, it really does go that fast even if it feels endless right now!
Last year we were living in my in-laws and didn't get a chance to decorate for Christmas with our usual decor. Check out how we made Christmas super simple last year here. Needless to say, we were all super excited to decorate in our new home this year!
I thought I would invite you to see what's on trend before you decorate for your Christmas season. Here is a round-up of all the pretty Christmas color trends I am inspired by this year. Am I missing any fun trends?
Here are some ideas to inspire you as you get ready for Christmas…
Super simple
Photo by homeyohmy.com
How to get there:
greenery
lights
black
white
gold
silver
This trend is lovely. There are no fancy ribbons while letting the simplicity of the green tree and white ornaments shine.
The DIY in her post includes a how-to on making her own white star ornaments (um, I may have to make some of these ornaments myself!)
The black, white, and green Christmas combination look much like this one…
Black and white
The amazing look of the black and white plaid is rocked at @ourfauxfarmhouse
How to get there
green
white
black and white plaid
black
galvanized metal
warm natural elements such as wood and fur
Seriously loving the plaid look right now!
The trick to getting this look is the greenery to create warmth and depth to the stark color contrast. Wood is also an important element to create warmth for the space.
All white
I absolutely love the peaceful presence the all white feel by Centsational Style.
How to get there
white
more white
and more white
did I say white?
and little tiny pops of colored ornament balls and ribbon
little pops of silver and or gold
Even the trees are white! There is no greenery here! Lots of textures are needed with this monochromatic pallet. The cozy blankets and textured stockings help to create layers of warmth.
Natural and rustic
Oh how I love this whole post by Love grows wild
How to get there
natural elements like worn woods
white Christmas ball ornaments
burlap ribbon
White branches tucked into the tree
white tipped pine cones
There isn't even a tree topper but how lovely am farmhouse cozy this tree is.
Rose Gold and white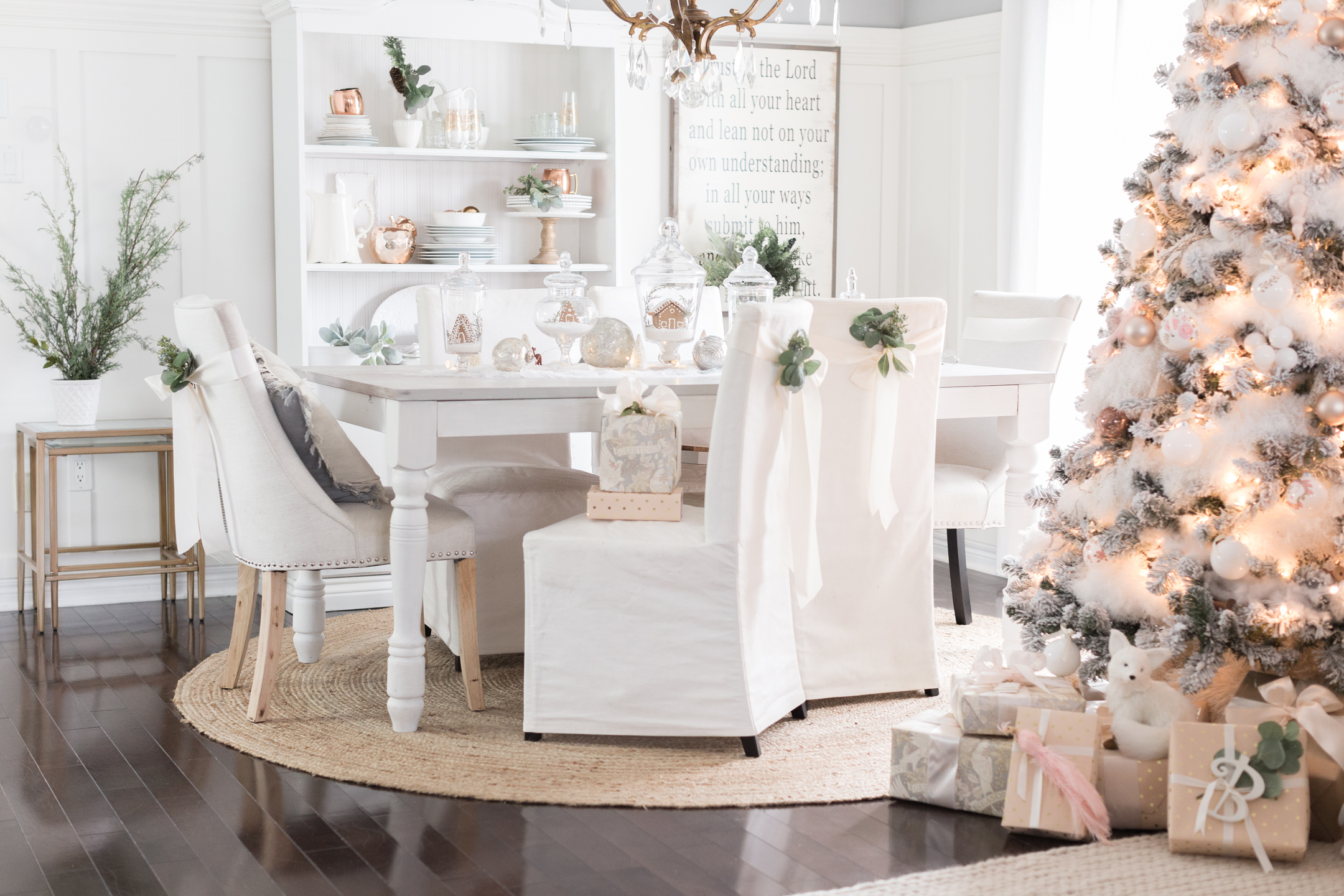 Elegant and powdery, this beautiful room is decorated by Craftberrybush.
How to get there
White
white fluff
blush
sparkles
blush metal
greenery
white ribbon
frosted tipped tree
I am loving those copper mugs on the shelf! Now I am on the hunt for these beautiful copper mugs with a yummy ginger drink to enjoy. I feel like these mugs are a Christmas must this year!
Silver and gold
Inspired by A pumpkin and a princess
How to get there
Gold
silver
white
sparkly
white tipped tree
white/gold/silver poinzettas
greenery
Sparkly and winter feeling, this is an elegant look for your home.
Red plaid
An earthy farmhouse look from A pop of pretty blog.
How to get there
red plaid
black and white plaid
natural burlap ribbons
music notes ribbons
white snowflakes
white
red berries
snow covered florals
This tree rocks the red plaid. It even includes the popular black and white plaid along with some farmhouse fabrics. It even I think my fav is the merry banner across the front of the tree which makes it super creative.
Turquoise and silver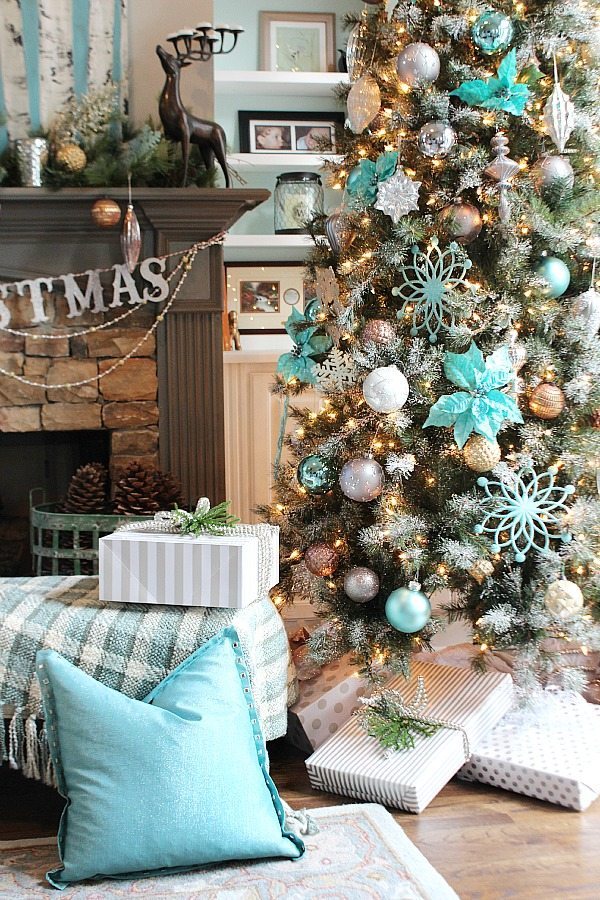 This fun and colorful tree was put together by house of turquoise 
How to get there
silver
white
gold (optional)
turquoise
poinsettias
all things sparkly
I would choose to keep the gold out as I like more of a clean look with the turquoise, but that would be a personal choice.
With all these amazing choices, I just have to figure out the color theme I would like to go with this year. They are all so beautiful! I really love the simplicity of the plaid in my modern farmhouse! Honesty, most of my Christmas decor is turquoise though so I am not sure. Stay tuned by following me on Instagram!
Which one would you choose? Pop your email below for more inspiring updates.